ROBIN'S PAINTINGS FOR SALE
These are smaller and mid size pieces from Robin's own archive, signed and dated.

The approximate size of each is listed in inches.

These prices are valid January 2018 and are exclusive of postage.

For all enquiries ring Pigs Whisker Music
+44 (0)2920 231739

Leave a message with your phone number.
Payment by cheque in pounds or dollar equivalent.
Please don't send any payment without ringing first.
North of the Garden
An imaginary view out from the gates of Eden
7& a half by 5 inches
£750
---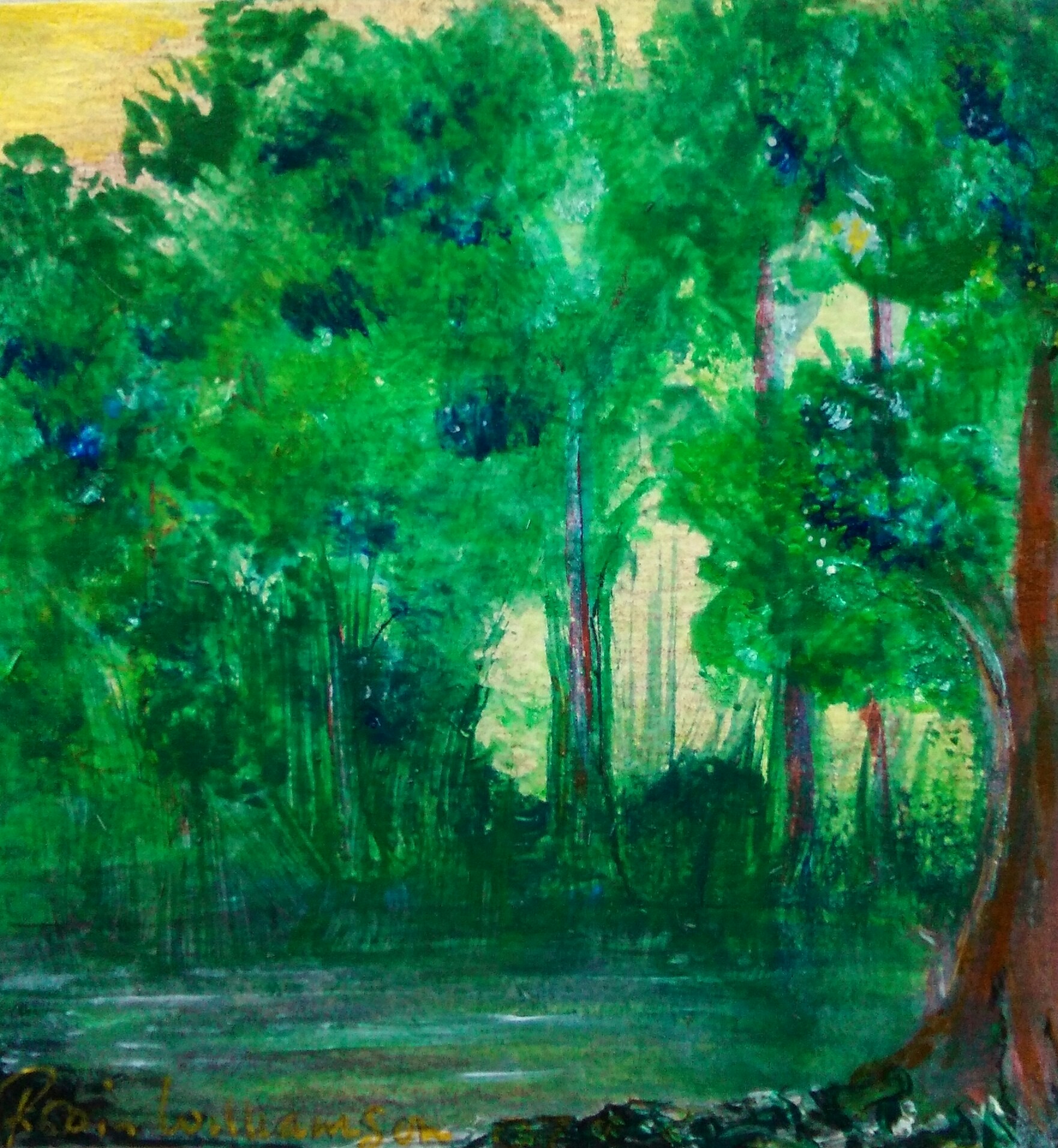 Redwoods
5 by 5 inches
£150
---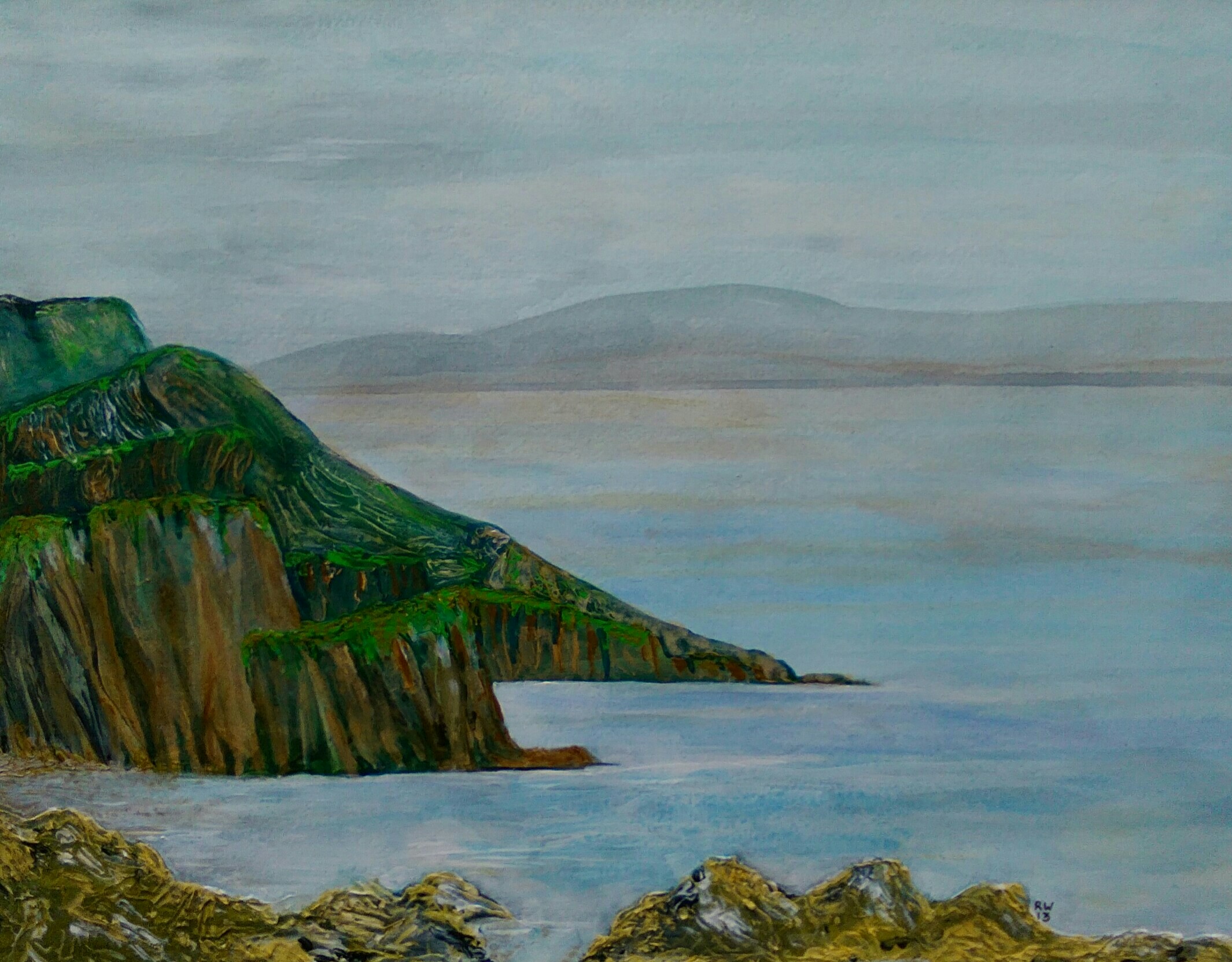 Across the Severn
15 and a half by 12 inches
£750
---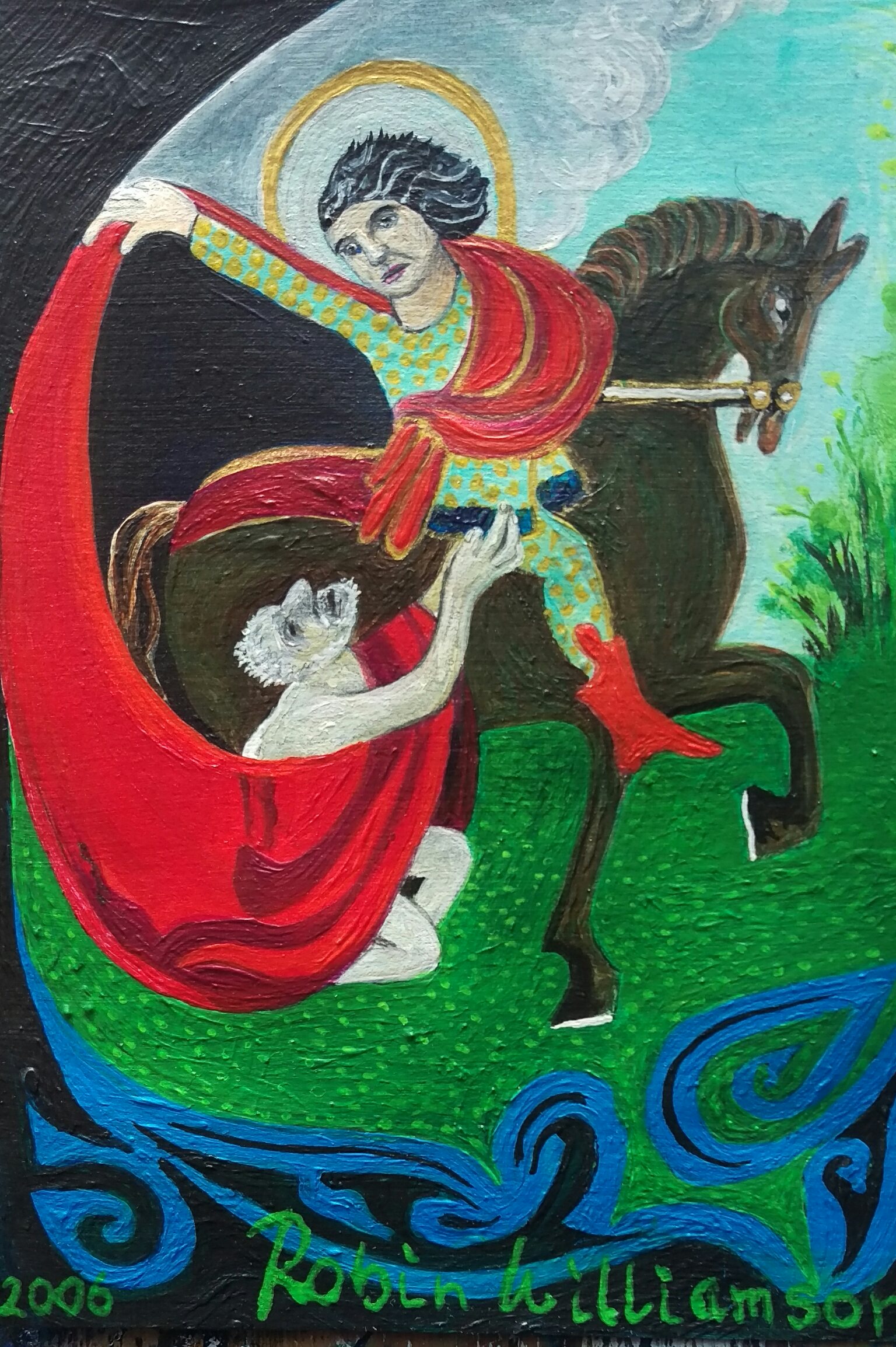 Saint Martin
The legend of Saint Martin sharing his cloak with the beggar has led, in folk tradition, to his role as the spirit of charity and to his reputation as a powerful helper in times of trouble
4 and half by six and a half inches
£400
---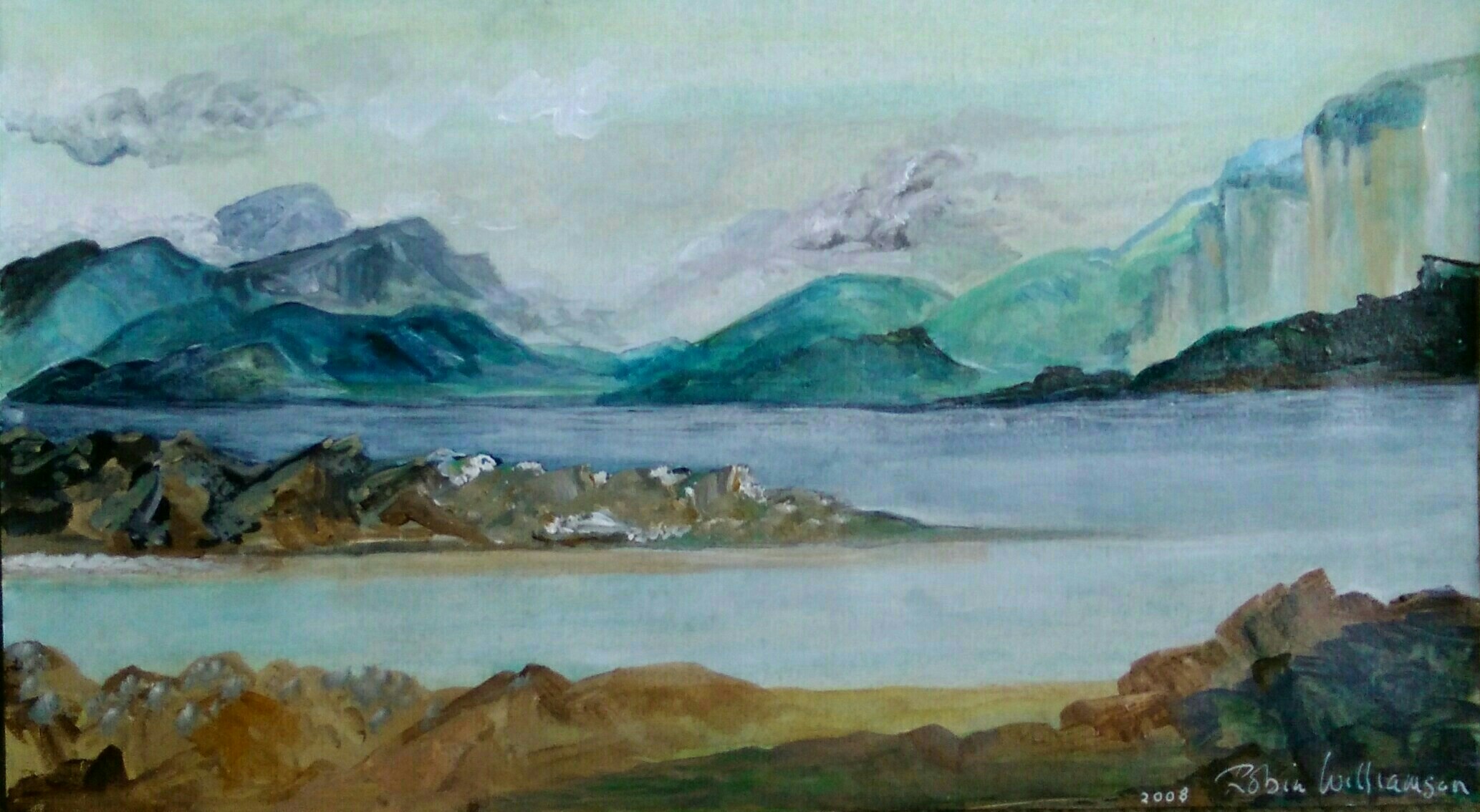 Remembering the High Loch
16 inches by 9 inches
£750
---
The Old Woman with the Leaves
10 and a half by 13 inches
£700
---
Saint Peter with the Keys
In folk traditions Saint Peter with the Keys has the power to
open the door to good fortune and the future and close the door to misfortune and the past.
6 and a half by 14 and a half inches
£ 950
---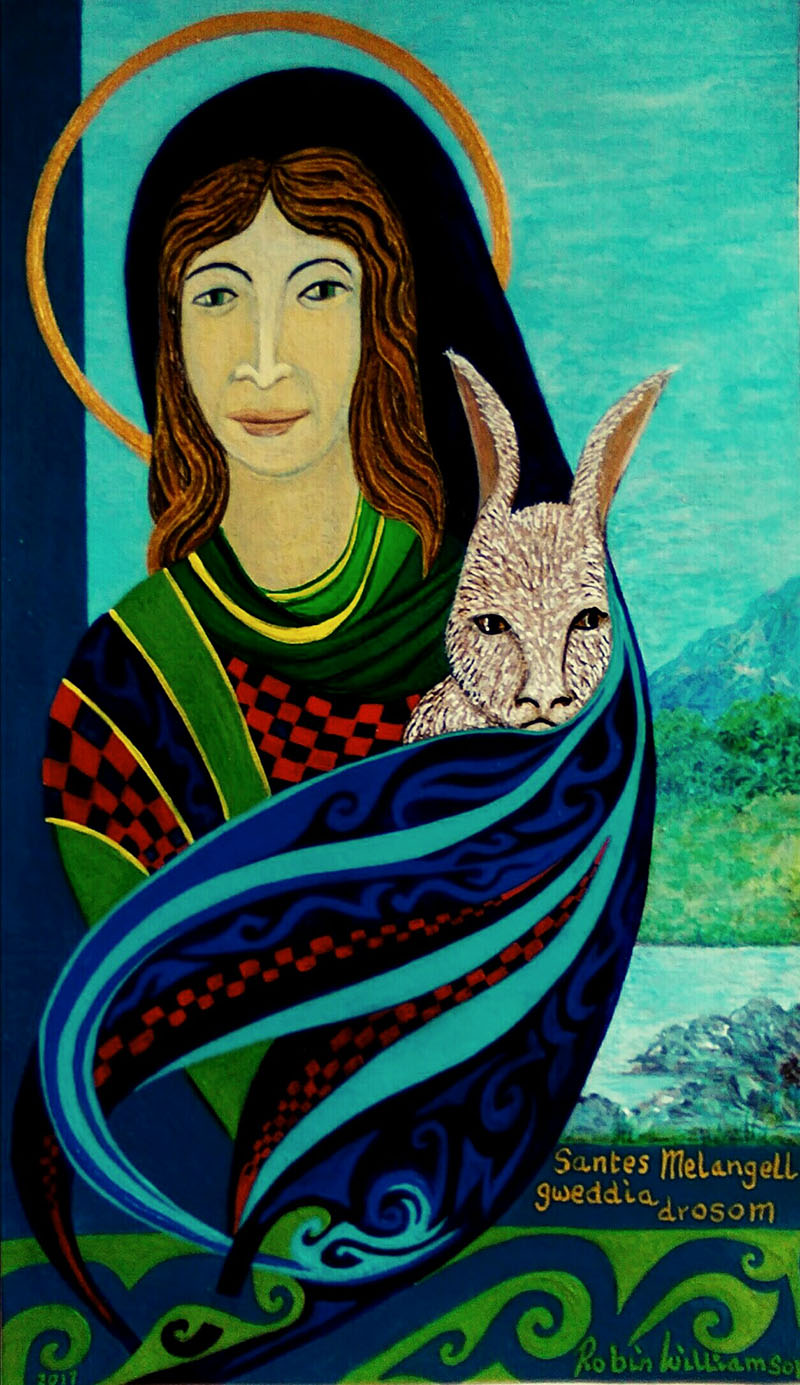 Saint Melangell
The legend is that a 6th century Welsh prince out hare hunting with his dogs, was astonished when the hare found safety in the robes of the beautiful forest hermit Melangell.
Her shrine at Pennant Melangell near Oswestry in North Wales is unique and is a place of pilgrimage. For me she represents the spirit of care for the helpless and for all animals.
8 by 13 and a half inches
£ 950
---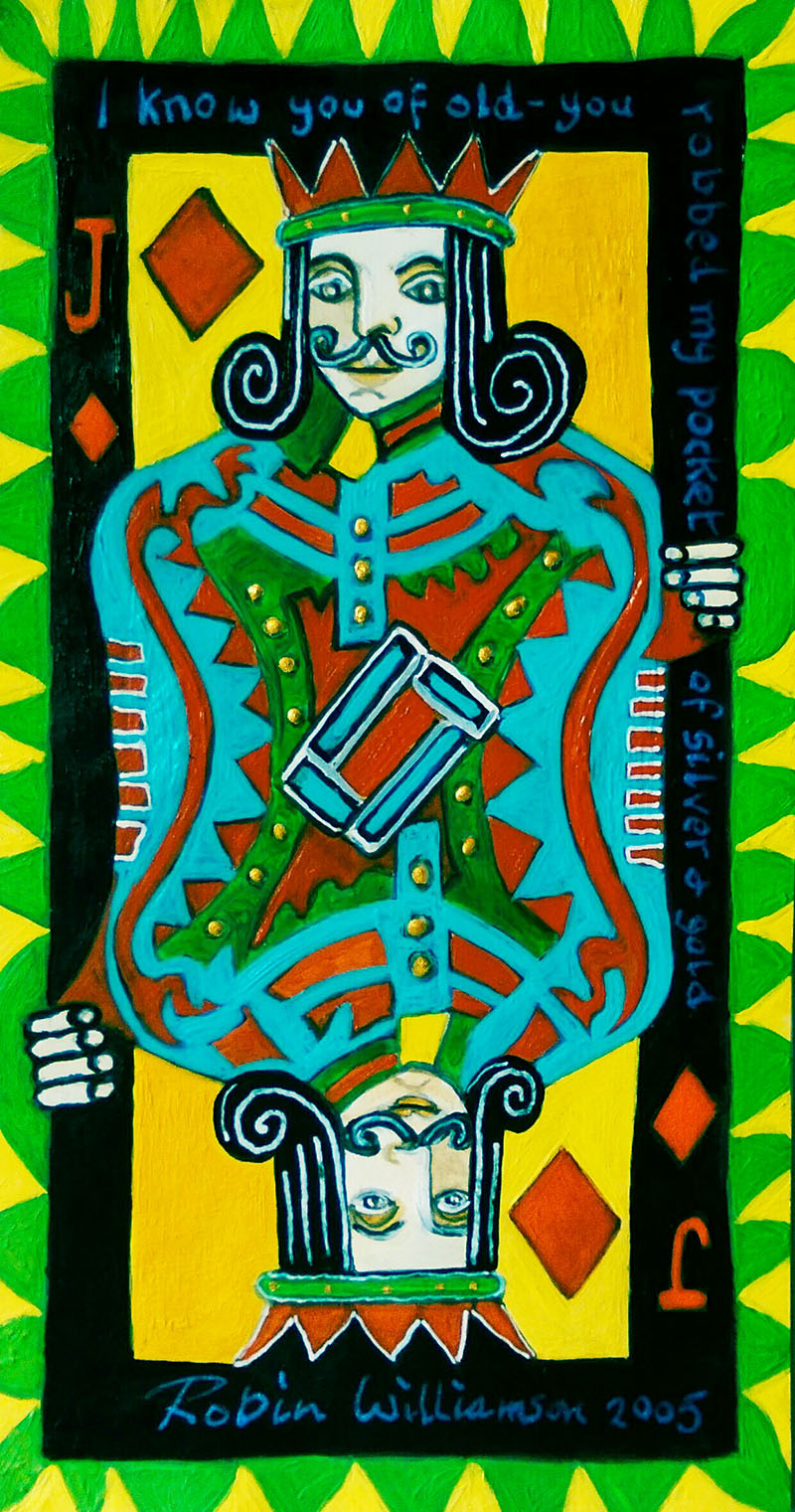 Jack of Diamonds.
With quote from the old folksong about that card
" I know you of old, you robbed my pocket of silver and gold"
8 inches by 4 and a half
£ 550
---
Demeter
9 inches by 13 inches .
The lyrics quoted are from Robin's song Verses at Powys
£950
---
For Sale As Prints
These paintings are currently available as A4 prints mail order £15 $30 send postal order or cheque to Pig's Whisker Music
PO box 309
Cardiff CF11 9ZA
South Wales U.K.
Dream Journals
Witch's Hat
Dream the World All Alive
Stranger Than That
All on a Summer's Day
Fools Dance
Guardian Spirits of Moon and Water
Invocation
This Riddle
The Circle is Unbroken
Demeter